Sopa de Fideo with Chicken
September 8, 2017
|
by Stephanie Chavez
|
Leave a comment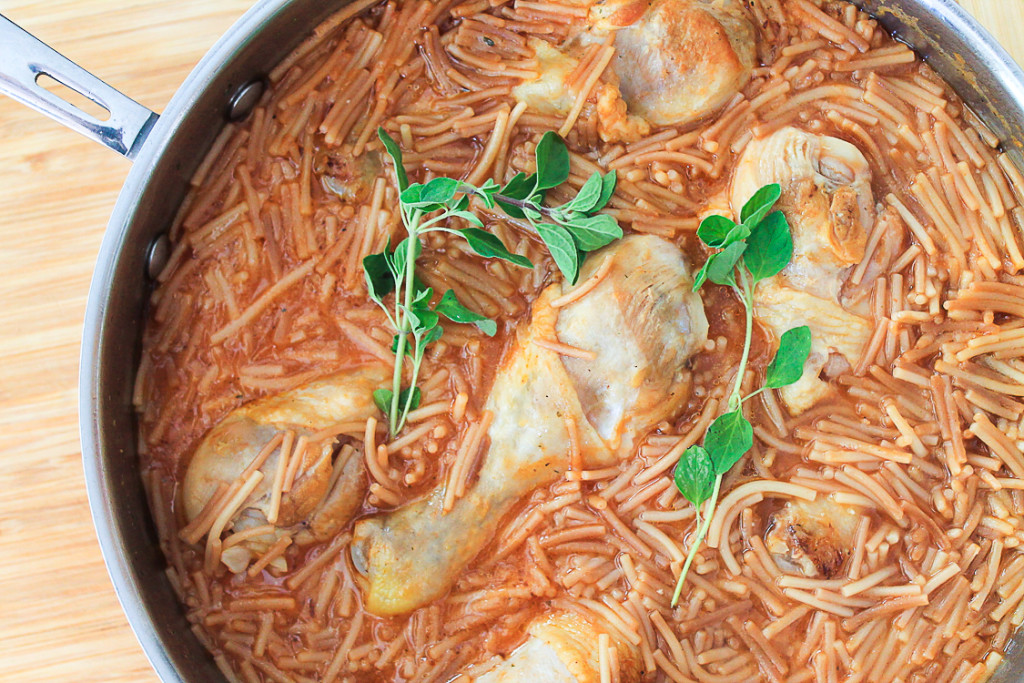 Hey, hey! How's my Spanglish Spoon familia doing these days? Can you believe the weather is finally starting to cool down?! If you live in California, then you know what I'm talking about. August was brutal to us. Most of the month felt like we were in an oven. There were days when it felt more like a hairdryer was in our faces! Even the coast was too dang hot on some days which rarely happens.
This Summer really kicked our butts. In fact, one reporter from the weather channel stated that there are currently at least 80 fires in 9 states in the Western United States. There's just too much heat all around us!
I'm so done with the heat. So much in fact that I wish we could sell our house and move somewhere closer to the beach! The only problem is we'd be trading our home for a much smaller one for a lot more money, but we're not ready for that, so I just have to suck it up.
Besides, when I think about the destructive weather hitting Texas, the Caribbean Islands, and Florida, I have to thank God we are at least safe and far far far far away from hurricanes. Man, I feel so bad for the folks in Texas. And now Florida is next to get hit by Hurrican Irma. I'm praying that Irma turns into a tropical storm and spares more families from losing their homes. As I write this, according to the weather channel website, Hurricane Irma is classified as a category 5 Hurricane!
If you want to help, Charity Navigator has a list of local organizations helping families in Texas who were affected by Harvey. I'm hoping they will update their website in a few days with more helpful links for us to help with donations once Irma passes.
Meanwhile, how about some comfort soup to cheer us all up. I know a lot of us can use it right now.
Enjoy!
Recipe for Sopa de Fideo with Chicken.
Sometimes I make sopa de fideo with chicken, sometimes I don't. I like the extra flavor it adds to the soup, so most of the time I do add chicken with the bone – typically drumsticks. Be sure to season them with salt to your liking before you cook them. You can use as little as two drumsticks if you want. This recipe calls for six because I wanted to have leftovers for the next day.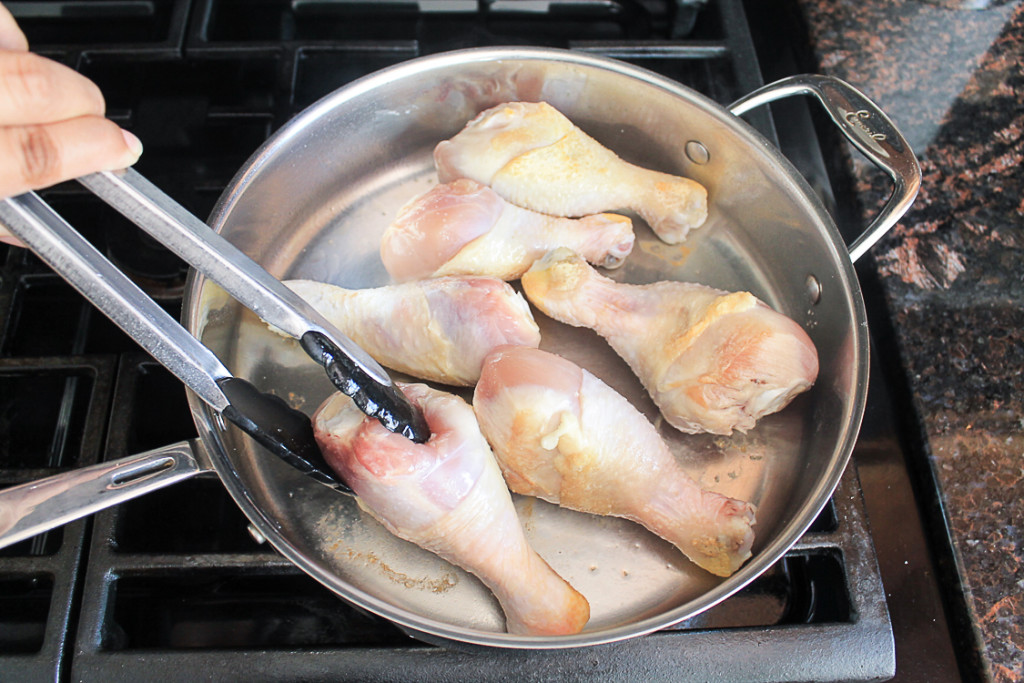 I start by cooking the chicken in a little bit of extra virgin olive oil on all sides until the skin starts to crisp which usually takes about 8-10 minutes on medium-low heat.
This helps start the cooking process and cuts down on how long you have to boil the chicken once you add it to the sopa.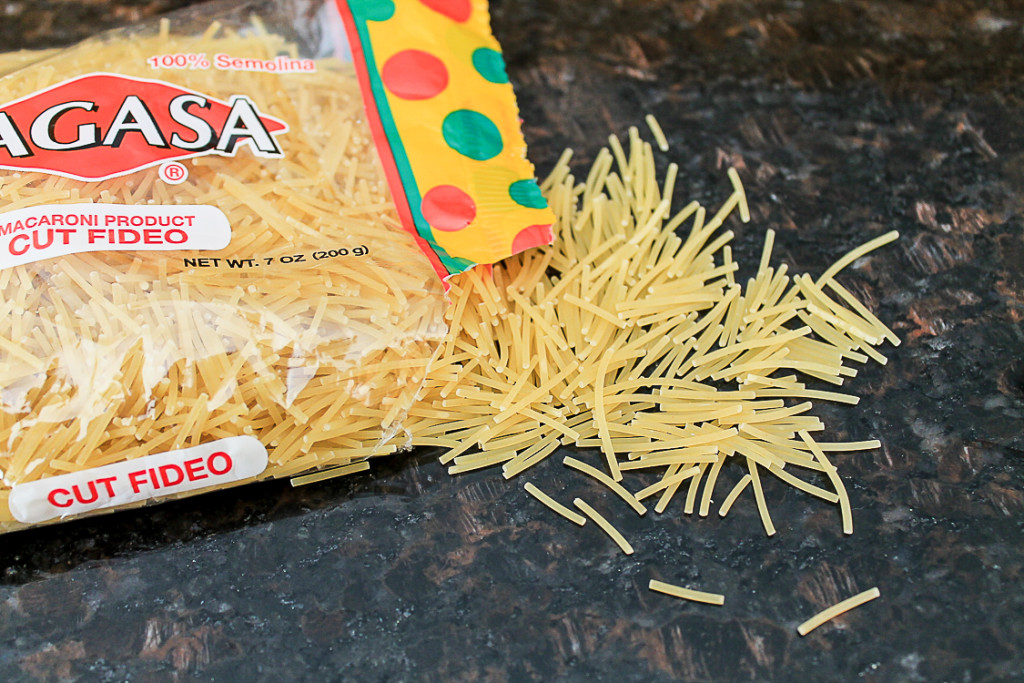 I'm using a 3-quart (10″) pan with a glass lid for this sopa de fideo.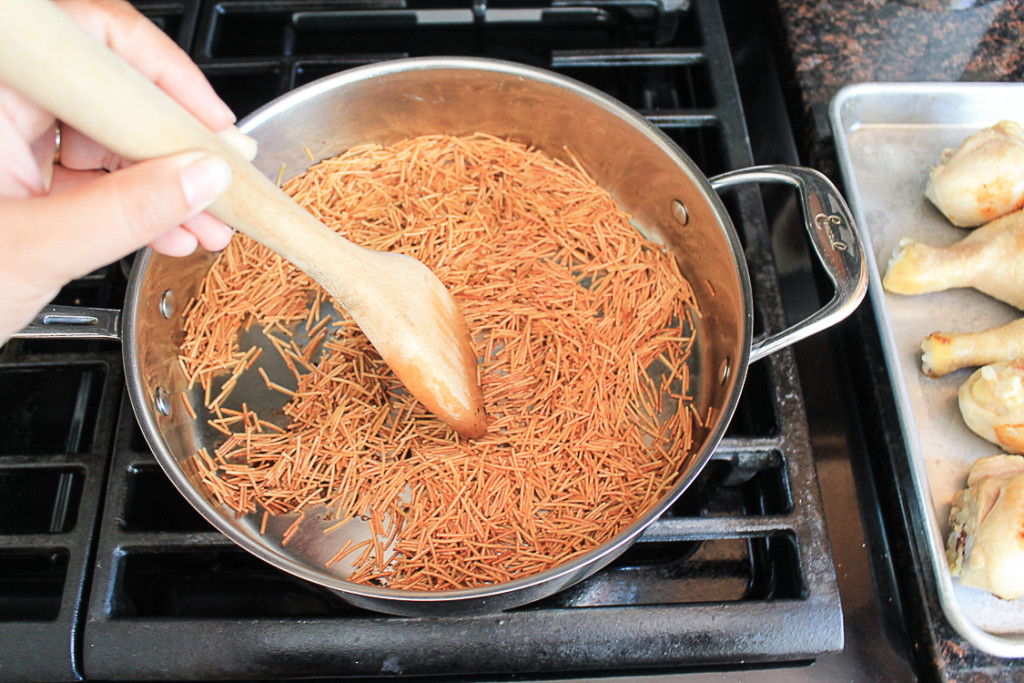 Once the chicken skin looks like it has a light crisp to it, remove all the legs and set them aside (they won't be fully cooked).
Keep them close by though!
On medium-low heat, toast one 7-ounce bag of dry fideo noodles in one tablespoon of any cooking oil, stirring constantly so it doesn't burn, for about 6 to 8 minutes.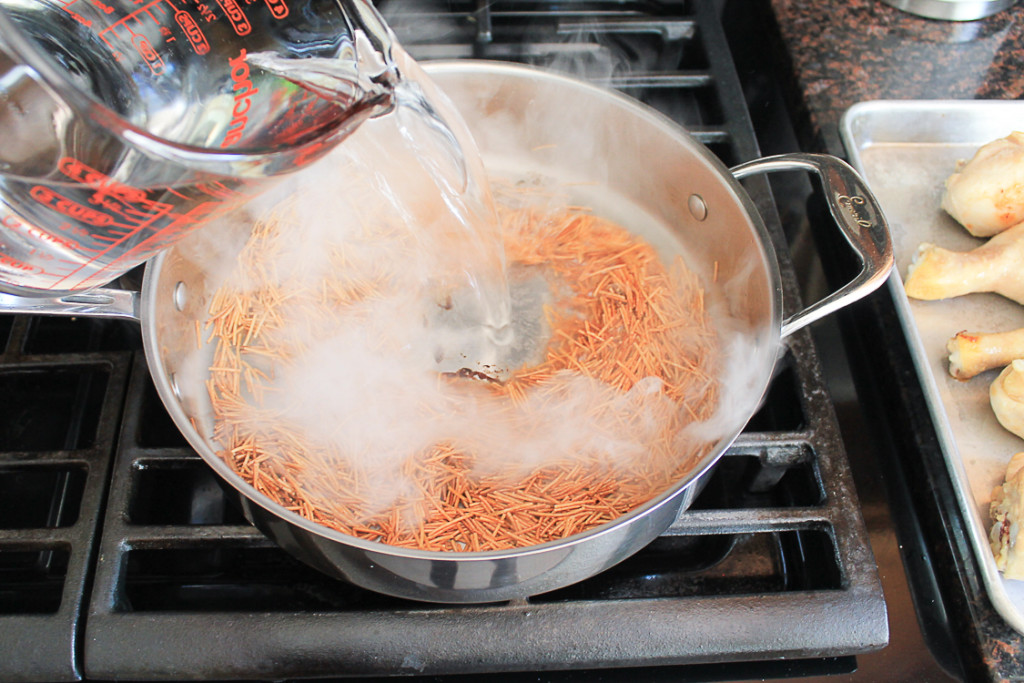 Once the fideo is toasted into a light golden brown color, add 6 cups warm water, 3 tablespoons tomato paste, 2 teaspoons garlic salt (I use Lawry's), plus 1 teaspoon chicken knorr.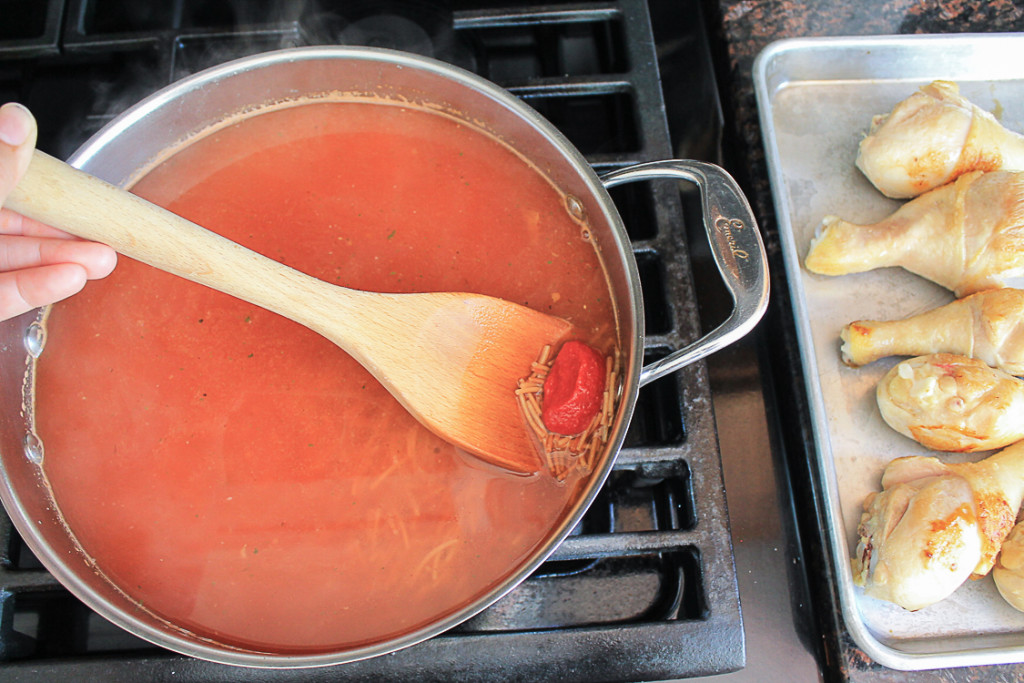 Bring the sopa to a low simmer and continue stirring until all the tomato paste is fully distributed.
Or is it dissolved?
Not sure how you would say that, but you know what I mean, right?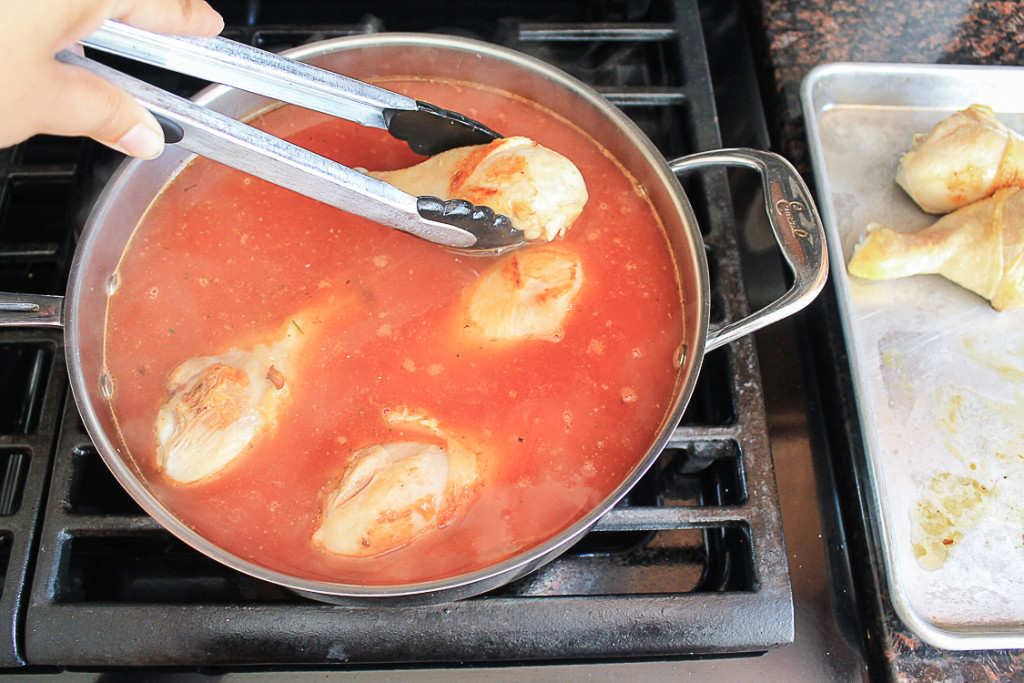 Return the chicken to the soup and bring the soup back to a low simmer.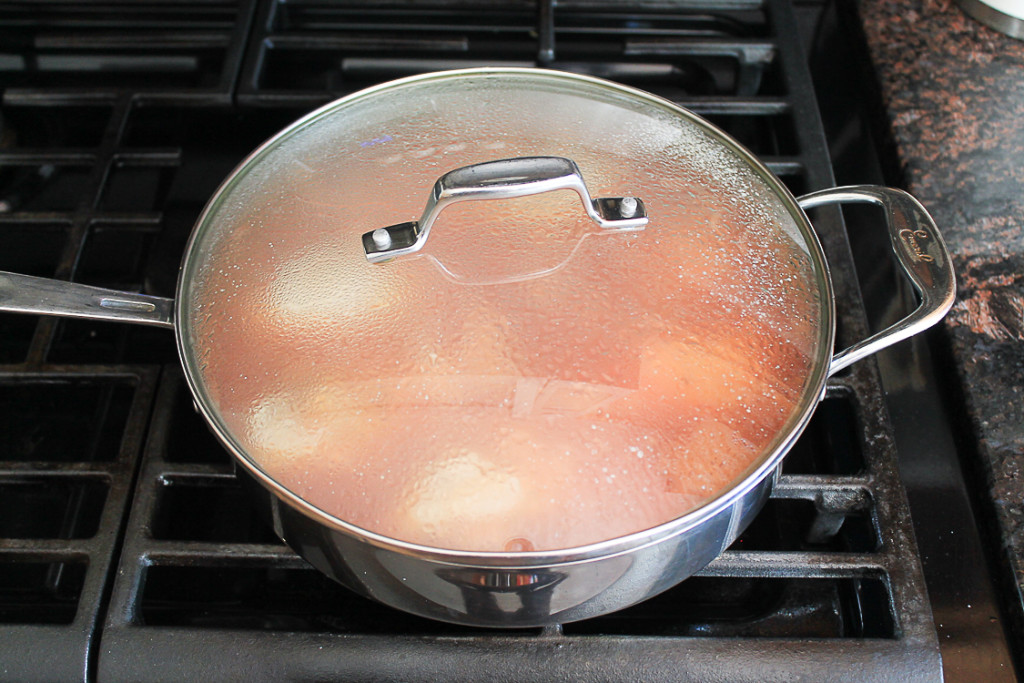 Cover and let it simmer on low for 15 minutes. After 15 minutes, turn off the heat and let it rest for another 10 minutes before serving.
**Edited 9/14/2017 to add: Check the temperature of the chicken to make sure it is fully cooked by using an instant-read thermometer inserted into the thickest part of the chicken meat but not touching the bone. Chicken is safe to eat when the internal temperature has reached 165° Fahrenheit. 
After 15 minutes, turn off the heat and let it rest for another 10 minutes before serving.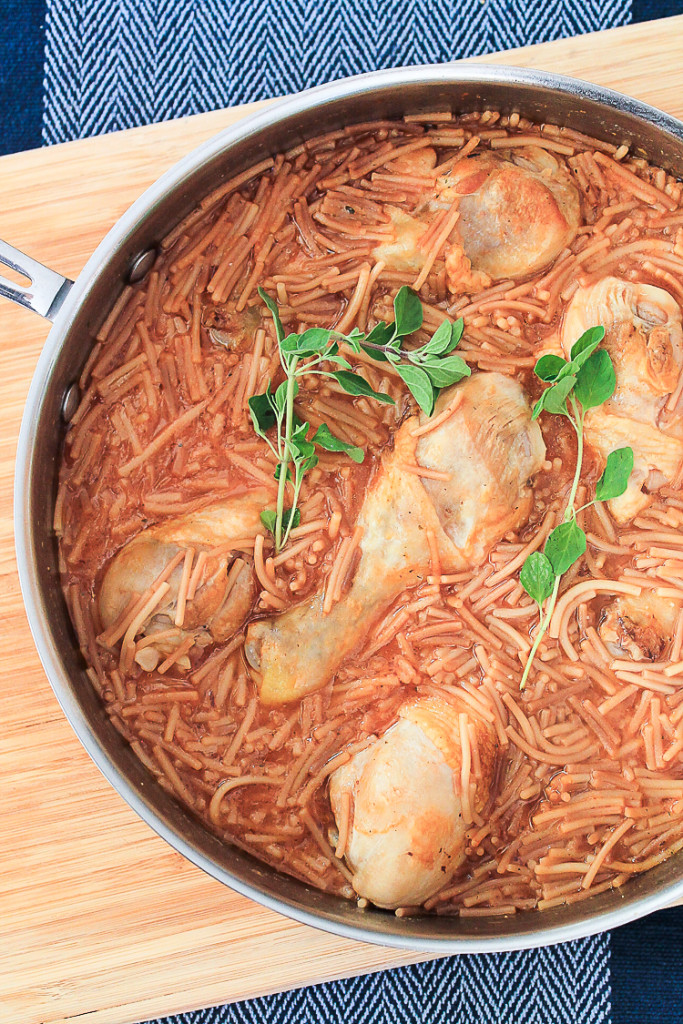 Serve warm with a light squeeze of lemon and/or chopped fresh oregano if you're into that. I am, so that's what I did. 😉
I hope you enjoy this sopa de fideo with chicken. Now that we're seeing signs of Fall tiptoeing around the corner, we'll be having more sopa in our house. How about you?
Print Sopa de Fideo Recipe